Business owners know that workplace productivity should be at the top of their priority list, because it can mean the difference between short-term and long-term company success. The reality is that safety concerns in and around the office remains a grave concern across all industries, and can be detrimental to your workforce if the right protection and safety measures are not taken.
The prominence of workplace violence in the United States (and other factors that influence safety) mean it is increasingly important to take steps to provide a safe environment for your staff.  Workers who feel protected in their work-related surroundings can concentrate fully on their work efforts instead of worrying about exterior elements or forces, after all.
Hiring a security guard for the workplace can significantly impact employee productivity, leading to higher success for your company. Here's everything you need to know about the process.
What Does a Security Guard Do in a Work Setting?
A security guard in a workplace has two main roles: to keep the building and company safe, and to exemplify the care an employer has in terms of that safety and protection. Security guards' duties and responsibilities can vary depending on the location and circumstances of the office environment, but include several main roles to keep the workplace safe:
Vetting visitors to prevent unauthorized entries
Diffusing tense situations between employees in real time
Boosting employee morale by removing concerns about well-being
Helping each manager save time by handling security concerns
Preventing bad actors from acting
Contacting law enforcement if necessary in emergency situations

No two days are alike for a security guard, and each may mean they face different challenges or situations that would warrant the intervention of a trained security professional. A knowledgeable and professional guard will contribute to de escalating and alleviating situations as necessary, thus boosting team productivity within a company setting.
6 Ways Security Guards Can Improve Productivity
You may not always consider the different interactions or situations in your day-to-day operations that could affect workplace productivity. The truth is that many factors contribute to your employees' time management, work efficiency, ideas, goals and goal setting, tasks, and overall mindset, each of which impacts company culture and success. Negatives like concerns about overall safety can be a productivity killer for an organization, making strategies like employing a security guard key to improving efficiency and interactions between team members.
The following are some examples of how a security guard can offset the most common security risks and create a safer, more productive environment for everyone within your business.
1. Providing an ongoing deterrent of potential criminal activity
When workers walk through your doors, they should not have to worry about their vehicles or personal belongings being stolen or vandalized during their work hours. In addition, your valuable business property and assets must be protected from similar or different security threats. A security guard acts as a powerful deterrent for would-be criminals and their attempted criminal activity. They conduct walkthroughs of and monitor common areas such as parking lots, hallways, break rooms, and other spaces, which puts everyone on alert that criminal actions will be identified and dealt with swiftly. This helps to make sure possible culprits reconsider their attempts and allow your staff to work at ease.
2. Acting as a barrier between outside elements and your employees
Daily business dealings mean there will often be many people coming and going from your workplace including customers, staff, colleagues, vendors, and members of other crucial teams. Using a security guard at points of entry can help you maintain things like control of the individuals entering and exiting your workplace as well as their intentions. Acting as a barrier from the outside, the security guard is able to add a layer of protection for those working inside.
3. Moving swiftly in emergency situations to notify law enforcement
There might be situations when an emergency arises in the workplace that requires the intervention of law enforcement or emergency medical services. A properly trained security guard will handle this aspect of your company operations, get started quickly to notify and request assistance from the appropriate emergency services and get the help needed to your location as soon as possible.
4. Diffusing tense interactions
From arguments with customers to terse discussions between staff, security guards on the premises means you have neutral third parties to step in and defuse situations quickly. Their goals in these exchanges are to provide a sense of authority, preventing further escalation or trouble between people who are experiencing heated emotions. Security guards are trained in tools like conflict resolution skills to identify when a situation is escalating and to de-escalate that tension promptly.
5. Identifying security threats or risks
Having security professionals in your workplace from day to day allows them to get to know your environment, which helps them to better identify any abnormalities or security risks that may arise and pose a danger to your company. A security professional will help your employees have peace of mind during work hours, meaning your team can spend less time focused on the things going on around them and more on things that increase productivity.
6. Assisting with termination of disgruntled employees
The firing or termination of a disgruntled employee can give rise to heated moments and emotions for the parties involved, which can decrease other employees' ability to focus. A security guard can help ease the transition by assisting managers with the physical process of termination, including escorting keyed up former-personnel off the premises to prevent further animosity or troubles.
Having the right security guards in place keeps companies functioning at their best, and might even be the best way to ensure your employees and team members feel safe, secure, and productive in the work environment. The key here is hiring the right personnel, however.
What to Consider When Hiring a Security Guard to Improve Workplace Productivity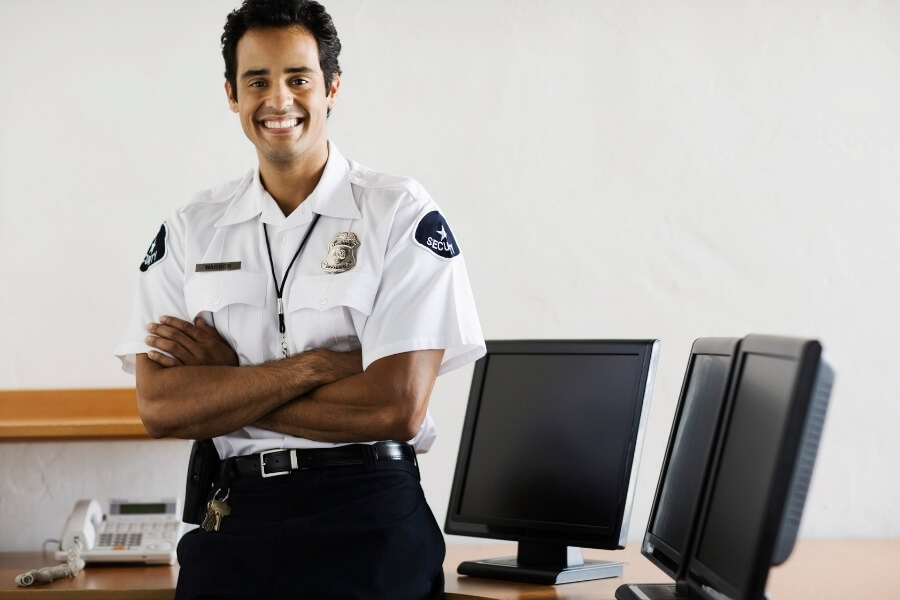 Hiring a security guard is an important task, and there are a  number of factors you should take into account when reviewing potential candidates for your business' security needs. Some factors to look at when hiring a security guard include:
A Calm & Collected Demeanor
The personality of your security guard can often be just as important as their background, training, and experience. A calm and level-headed individual will have a higher rate of success at de-escalating situations as amicably as possible, for example.
Proper Training & Experience
An individual with proficient law enforcement training as well as an understanding of basic security concepts and principles will best fit the role of a security guard for your business. Experience identifying and confronting risks is necessary to ensure the individual responsible for protecting your staff and building is confident and capable of fulfilling that role.
Keen Observation Skills & a Problem Solving Mentality
Beyond their training and experience, a good security guard will have excellent observational skills and a problem-solving approach in the way they carry out their responsibilities. At the end of the day, you want to minimize disruptions to your team and maximize output.
Remember:
The right security guard will ensure that problems are dealt with appropriately and quickly with as little impact to your employees and operations as possible.
The addition of a security guard or team of security professionals to your workplace will assist you in keeping your workforce secure during their time at work, an element that is key to ensuring productivity in the workplace.
An employee who feels safe during their work hours is more likely to remain a productive member of your team with valuable contributions.
Employees who are more focused on work are better able to focus on selling the product, idea, technology, or other elements that will be key to generating company profit.
Are you looking for ways to boost productivity by making sure your managers have more time for their tasks? Contact the security experts at SMART Security Pros to speak about your workplace security needs and how we can help you protect your staff and property.