The number of armed security guards at hospitals and other healthcare facilities has grown significantly over the last decade. The reason? Hospitals have unfortunately become more dangerous places, requiring the need for more hospital security officers. Hospitals face high risk for workplace violence. Most incidents going unreported by the doctors and nurses who experience it.
Many hospitals choose not to hire armed guards because of the perceived risk of having firearms in the facility. However, with proper training, armed security officers such as off-duty police can make a hospital a safer place for all.
Medical Security Statistics
In the 2 years from 2012 to 2014, violent crime at healthcare institutions grew 40%
More than 10,000 incidents of violence occurred toward hospital employees
52% of medical centers arm security guards with guns
47% of medical centers arm guards with tasers
An Indiana hospital reduced crime on campus by 5% in 2017 after hiring armed officers
Emergency departments and psychiatric units face the highest acts or threats of violence
Hospitals are under pressure to improve their security for several reasons. The first is that patient protection and safety is always the priority for a healthcare facility. The second: most hospital violence is against staff – who are desperately needed to maintain efficient facilities and care. The third is that violence in healthcare is extremely costly and must be controlled.
These factors and more will be explored in the following sections.
The Benefits of Armed Hospital Security Officers
Employees in U.S. healthcare are facing a violence epidemic: workplace violence occurs four times more often in healthcare than in private industry. Most often, this occurs in the form of intentional bodily injury from a patient to a healthcare professional, including nurses and doctors.
1. Reduce Violence
Well-trained armed hospital security officers will reduce risk factors and violence. The best strategy for this is to have them become an integrated part of the healthcare facility's medical team.
By creating a strong rapport through personal relationships with nurses, patients, doctors, and families, security personnel can proactively assess potentially risky or volatile situations. The goal is to speak with individuals about concerns or problems in a way that prevents violence from occurring at all.
The presence of a hospital security guard can help to put minds at ease and create a sense of safety for visitors and staff.
2. Effectively Resolve Violent Incidents
Violent occurrences have happened in situations where there were inadequate protocols in place: lack of organization policy or training, inadequate emergency response plans, etc.
Hospitals have been improving in these areas, and most now employe several strategies for minimizing opportunities for this type of violence:
Implementing badge access
Installing panic buttons
Limiting guest access and hours
The use of surveillance cameras
Using metal detectors
Training in de-escalation and emergency preparedness
And while these strategies have proven useful for keeping employees and patients safer, they don't prevent the risk of violence altogether. Not only can they not prevent workplace violence, but they don't effectively equip the institution to handle worst-case scenarios.
3. Reduce Costs Associated with Violence in the Workplace
Workplace violence is expensive. The results of a national survey showed that in 2017, hospitals spent $1.1 billion on training and security for preventing violence. In addition, another $429 million was spent on medical care, indemnity, and other costs associated with resolving incidents of violence against hospital employees.
Plus, violence in healthcare results in low morale and high turnover. These costs are harder to measure but incredibly important to good outcomes and profit. Preventing the violence that fuels these negative results will deliver better operations overall.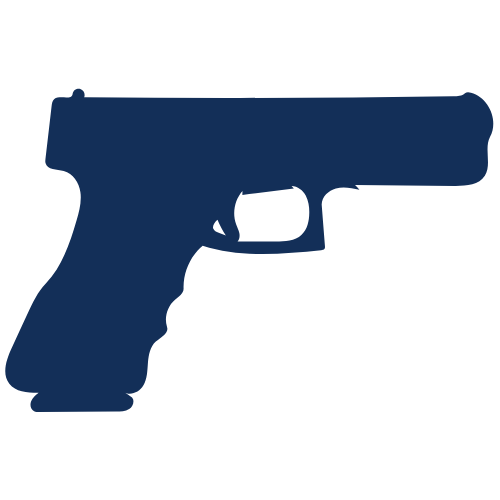 Prior Police as Armed Hospital Security Officers
Prior and off-duty police employed as armed guards add a layer of security to your hospital. Having the experience and training of law enforcement professionals on your hospital security team will:
Help prevent violence against employees and visitors
De-escalate charged interactions
Create a safer environment for patients
Protect against costs associated with unfortunate incidents
Making the Most of Armed Guards in Hospitals
When you research the use of police officers equipped with weapons in a healthcare setting, you'll see a lot about the risks. And it's true. Guards with inadequate training have poorly handled some situations, and on occasion, a patient has taken an officer's weapon to tragic results.
However, it's important to understand that these instances are not the standard. And there will always be risks in healthcare settings, especially in those dealing with psychiatric illness. The most common factor in hospital violence against healthcare employees is altered mental state.
Criminal intent is not often the motivator behind violence in healthcare. Patients with dementia, intoxication, or mental health issues, for example, are much more likely to initiate violence with a care provider. This type of workplace violence requires very careful handling.
Overall, hospital security is critical, and sometimes unarmed guards just aren't enough to maintain the level of security needed in your facility.
Thorough risk assessment, intensive training, adequate staffing, and clearly communicated expectations for security and medical staff are crucial for effective safety.

Hire Armed Security Staff For Your Hospital or Healthcare Facility
When you're considering armed hospital security officers for your healthcare facility, contact SMART Security Pros. We hire only prior and off-duty law enforcement personnel with the best training available. Our clients in Maryland, Washington D.C., Virginia and more are consistently satisfied with the value and effectiveness of our services.

Our helpful security experts will be glad to consult with you on the phone for a quote. Our services include risk assessment, armed security, security training for your staff, and more. Contact us today at 301-232-3808 to learn more!